Welcome to my segment where I find awesome book tags throughout the vast, wide inter-webs made by lovely bloggers like you! I'll hope you'll have fun and participate with me as well!
Today's Topic: The Disney Tag!
Found At: The Perks of Being a Bookworm
---
What is your favorite Disney movie?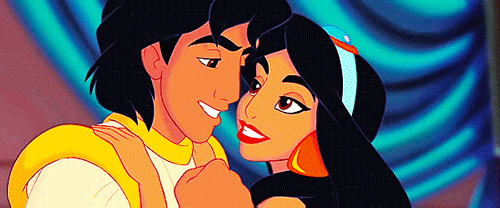 Aladdin!
Disney World or Disney Land?
I've only been to Disney World, not Disney Land so I'm a bit biased. I would say Disney World since the park is bigger and it seems like there's more to do.
Favorite Disney character?
Hmmm…Belle is my favorite princess, but my all time favorite character is Stitch!
Something you collect from Disney?
I don't really have a particular thing, I collect a lot of Disney memorabilia. But one year I bought lots of pins, I still collect the special ones from the park.
Favorite Disney ride?
It's so hard to choose! But a ride I always enjoy is The Haunted Mansion. I love the themeing and all of the detail they use to immerse you into the experience
Disney dream job?
To work in the animation studios. I've always wanted to work in that field.
Most treasured Disney item?
I don't have one.
Which Disney voice actor would you like to meet?
Jodi Benson (The Little Mermaid) or Lea Salonga (Mulan). Both are terrifically talented singers!
Favorite snacks at the park?
The Mickey Mouse shaped ice cream bars that are covered with chocolate!
Flounder, Sebastian or Scuttle?
Flounder! He's so adorable.
Do you have a favorite pair of Minnie ears?
I don't own a pair. 🙁 But I do have a Mickey hat!
Favorite restaurant at the parks?
I don't have a particular favorite, but my most memorable experience was a luau dinner at the Polynesian Village Resort. I'd recommend it to any visitor. I'd love to go back there the next time I visit.
What Disney princess has the best sidekick?
I like Mushu from Mulan! He's hilarious!
A scene from a Disney movie you'd like to experience?
Belle opening the doors to her Oprah sized library. My dream library!
Which character would you choose to be your BFF?
Lilo. She's so cool and I love that she's not afraid to be different.
If you had the chance to see Walt himself, what would you say to him?
Thanks for creating such magical characters that have made wonderful memories for me!
---
Tag! You're it! Comment with your answers below or participate by writing your own post and link back to me. 
THIS BLOG claims no credit for any images posted on this site unless otherwise noted. Images on this blog are copyright to its respectful owners. If there is an image appearing on this blog that belongs to you and do not wish for it appear on this site, please E-mail with a link to said image and it will be promptly removed.